Keokuk County Expo Fair

Expo Board

Keokuk County Exposition, Inc. was incorporated in 1976 as a nonprofit organization to build facilities and provide a fair and events dedicated to 4-H, FFA, FCCLA and other youth or farm orientated groups.  It was built by volunteers with materials and funds contributed by dedicated citizens and organizations.  All residents of Keokuk County are voting members in the election of 30 directors representing designated sections of the county and youth groups mentioned below.  The Expo operation continues with all volunteer help, and is the official county fair.
EXPO BOARD
President – Dustin Bensmiller
Vice President – Ron Collins
Treasurer – Autumn Walker
Secretary - Carolyn Holm-Eslick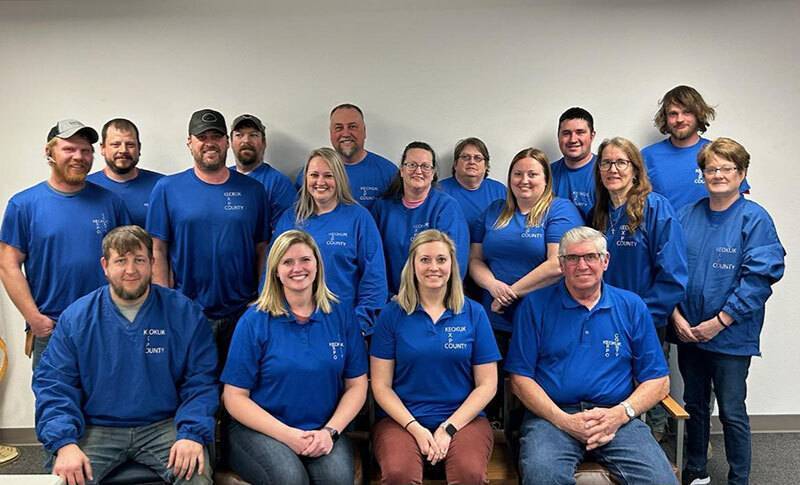 Front row (L to R): Dustin Bensmiller, Carolyn Holm-Eslick, Autumn Walker, Ron Collins.
Middle row: Neil Wehr, Rick Landgrebe, Heather Snedigar, Alisca de Regnier, Liz Gann, Julie Wilson, Karen Morris.
Back row: Stephen Clarahan, Logan Lee, Chad Heisdorffer, Lisa Richarson, Ben Fox, Adam de Regnier.
Not Pictured: Brian Eakins.

Directors

District 1
Autumn Walker
Ron Collins
Liz Gann
Chad Heisdorffer
Neil Wehr
District 2
Alisca deRegnier
Logan Lee
Stephen Clarahan

District 3
Dustin Bensmiller
Lisa Richardson

District At Large
Adam de Regnier
Brian Eakins

Sigourney District
Heather Snedigar
Carolyn Holm-Eslick
Rick Landgrebe
Julie Wilson
Ben Fox
Karen Morris